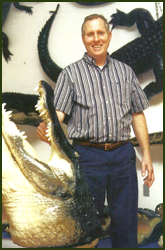 If you are planning an alligator hunt, we would like to tell you about the services our company has to offer. As a family business we have been doing taxidermy in Florida since 1954 and have specialized in alligator and other reptile taxidermy for the past thirty years. Our reputation is founded on quality workmanship at reasonable prices.
Over the years, we have continued to upgrade our methods and services to bring the best possible results to you, "our client". We are proud to have pioneered many new styles and poses for your mounts that are available only through us, and we employ a full staff of taxidermists to handle your needs.
If you have any questions please feel free to give us a call. We look forward to doing business with you. Many thanks to the guides, outfitters and agents who work closely with us to make your hunt a great success.

---